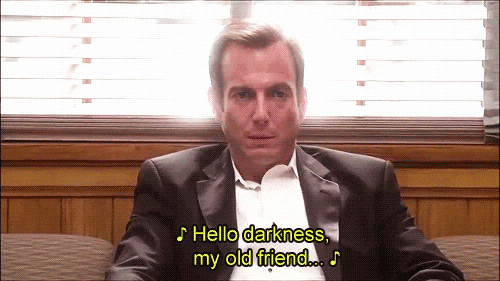 Hello, friends, Miller here. Been a wild past month. Between getting married, my honeymoon, and then starting 0-4…been a ride so far. Anyways, I won this week, so I've crawled out from The Great DFFL Depression, and pulled myself up by the boot straps. Odds are high my win over Will was a fluke, and in the end will own the worst record, but hey, there's always next year, right?!
So, now that I'm not depressed, let's get back to the Weekly Roundup!
THE WEEK THAT WAS
I'm not gonna sugar-coat it, I've been slacking. The aforementioned marriage, and honeymoon threw a wrench into my Weekly Roundup-ing. I'm back, and I'd say better than ever, but I'd be lying. But, I'm at least back.
So, we're at Week 5? What's going on? We've got Doggie out in front, leading the pack. Then there's a nice pack of 3-and-2'ers. While The Don and Dead Rats occupy 5th and 6th, respectively, Brothers Miller bring up the rear.
What happened this week?
Slob On My Cobb (181.39) vs. Willenium Force (151.29)
My team is such utter trash. One week I don't break 100, the next I'm in the 180's. I've set the O/U for my team to break 200 this year at 0.5, feel free to lay your bets with the DFFL house-bookie, Donald Shontz.
Will was off and running to start the year, opening up to a 3-1 record, and averaging 206.97 ppg before the byes started rolling in. He caught a break and played Patrick two weeks ago, and got the win despite putting up a sub-150 effort. This week his sudden loss of form caught up to him, dropping our matchup. He's averaging just 150.52 over his last two. With a big battle looming against Brum for 3rd/4th, he'll need to bounce back from losing to the worst team in the league, in a bad way.
The Donatello (176.09) vs. Emmanuel In Space (252.75)
First things first, FUCK GTG. Deppen's worst player this week was Antonio Brown, and still managed to win by 76.66 points. It's truly fascinating what Scooter's team has done to start the season. You can also hit up the house-bookie to lay your bets on the week Deppen loses. I've got Week 6. Sup, Rat?
Michael's team is the model of consistency to start the year. A high of 198.42, a low of 173.96, with an average score of 185.15 per week. He's had a combination of solid managing, and consistent play. However, he did mention he considered sitting TB12 this week in favor of EM10, but balked at the last minute. Eli went wild for 85.15 points, but it wouldn't have mattered, he still would have lost, but only by 43.56 points.
Consistency just wasn't enough to stop In Space this week. But, Dead Rats Walking are ready and waiting…
The Popcorn Playas (171.52) vs. BRUMrodKOWSKI (146.81)
Brum entered this week, surprisingly, in 3rd place at 3-1. And on paper, this matchup looked solid coming in.
Unfortunately for Brum, Jamaal Charles tore his ACL in the 3rd quarter this week. Charles was the #1 overall fantasy RB this year so far, and it's a brutal blow to 'Kowski's squad.
The Playas' give zero fucks for your injuries tho, and went on to win. Curlis didn't have a huge week, but got a big lift from THE 'RIDGE to the tune of 28.90 points. The Ridge faced off against Gronk this week, and obviously the better TE came out on top. Over their last three games, The Ridge is averaging 23.97 ppg, and Gronk is averaging 17.03. Clearly, THE RIDGE >>> Gronk.
Curlis moves into 2nd place with the win over Brum, and with the 2nd most points scored looks like a formidable threat early on.
HeHateMe30 (142.85) vs. Dead Rats Walking (164.01)
Man, Pat, what happened to your team? Full disclosure, I texted Mike before the season started and said that I liked Pat as a sleeper team this year. Holy shit, I was WAY off. But, that should be expected since I started 0-4 and felt GREAT about my team before the year.
This week started out great for Pat, with DeAndre Hopkins going buckwild all over the Colts, grabbing 11 balls for 169 yards, but failed to find the endzone. He still posted 30.90 points on TNF, and Pat was off and running. But with Luck still on the mend, Tyrod Taylor got the nod for HeHateMe this week. He came into this week averaging 51.55 ppg over his last three, but he got injured this week, and only posted 36.45. Melvin Gordon continued on a pedestrian stroll thru his rookie year, and then surprisingly got the fuggin gate this week! Starting Leonard Hankerson should give you some insight as to where Pat's team is at right now.
On the other side, Dead Rats Walking have quietly won two in a row. Granted, those two were against the Miller brothers, aka, the worst teams in the league. Let's see how Rat fares this week, when he takes on Grant. If Rat wants to have any chance, he has to hope James Jones continues to average a TD a game (which is fucking stupid, btw). It also appears that the Rams are cool with riding their rookie RB into the ground, giving Gurley 30 carries last week. Dude's coming off ACL surgery, b ez, Jeff Fisher. Enjoy these two wins while you have them, Rat, gonna be uphill from here.
THE WAIVER WIRE WINNER
With byes rolling along and some injuries starting to pile up, the WW is starting to heat up. There were some really solid additions this week from a depth standpoint, but no one really played them. On Monday Shontzie added Thomas Rawls (Michigan Man!) but then dropped him, and he went on to run for 169 yards and a score against Cincinnati. Oops. Although, technically that was a FA acquisition, so it doesn't really count in this section, plus he dropped him anyways. Also, Shontz hedged his Baltimore D play with Travis Cooooooooons, solid addition, but still technically a FA add.
Interesting Waiver pickups this week:
Z. Miller – Allen Hurns: 5 rec, 116 yds, 1 td (23.60 bench points); Willie Snead: 6 rec, 141 yds (23.10 points)
Rat – Josh McCown (lol): 36 comp, 457 yds, 2 tds, 0 int (86.05 bench points)
Curlis – Gary Barnidge: 8 rec, 139 yds, 1 (hilarious) td (28.90 points)
This week's Waiver Wire Winner is Curlis. He actually played THE RIDGE, and he had the biggest impact this week. Although, I do love my Hurns addition and the ability to run Double-Jags-WR with ARob. Anyways, congrats Curlis, go RIDGE!
SEASON POINTS BREAKDOWN
In this section we will be tracking each team's points by position, both total and weekly average. Pretty simple and straight forward, but a good indicator of where you stand relative to the rest of the league at each position. I'm sure plenty of people will be appreciating this section come trade deadline time.
PYTHAG NUMBERS
Let's take a look at the Pythag Numbers through Week 5:
| | | | | | | |
| --- | --- | --- | --- | --- | --- | --- |
| Team | PF | PA | ExpecWin% | Wins | ExpecWins5 | WinDiff |
| Emmanuel in Space | 1036.39 | 817.23 | 0.781 | 5 | 3.907 | 1.093 |
| The Popcorn Playa$ | 932.12 | 873.02 | 0.587 | 3 | 2.935 | 0.065 |
| Willenium Force | 921.94 | 954.08 | 0.454 | 3 | 2.271 | 0.729 |
| BRUMrodKOWSKI | 917.96 | 868.91 | 0.573 | 3 | 2.865 | 0.135 |
| The Donatello | 925.73 | 996.37 | 0.403 | 2 | 2.013 | -0.013 |
| Dead Rats Walking | 800.70 | 797.82 | 0.505 | 2 | 2.524 | -0.524 |
| Slob On My Cobb | 811.92 | 914.21 | 0.346 | 1 | 1.730 | -0.730 |
| HeHateMe30 | 709.82 | 834.94 | 0.295 | 1 | 1.476 | -0.476 |
These numbers so far are pretty interesting as no one is really outperforming expectation, or vice versa. Deppen's WinDiff number is pretty large, but that's mostly due to his absurd number of points scored, while having the second-least points against. Basically, the numbers show that Grant is a full win ahead of where he should be. His narrow escape from HeHateMe's grasp shows these numbers to be true.
THE WEEK AHEAD
We're really hitting our stride, and some interesting stuff is happening. Who is going to best Deppen first? Will the pack continue to separate from the bottom? Will anyone establish themselves at #2? Lots of questions, and only one way to find out…
#1 Emmanuel In Space (5-0) vs. #6 Dead Rats Walking (2-3)
Grant takes on perennial ass-sucker, Rat. The Gang formerly known as Rat's will try and keep pace with the league-leading points-machine. No real byes of note for Deppen, but Rat has some serious bye weeks to maneuver. Latavius Murray, Todd Gurley, and Tre Mason are all on their bye this week. And, as of me writing this, THE Josh McCown is slated to get the start at QB.
Deppen by 100. Sorry, Rat.
#2 The Popcorn Playas (3-2) vs. #7 Slob On My Cobb (1-4)
I got off the schneid last week with a much-needed victory. Both Curlis and myself are pretty clean this week on the bye/injury front, so it'll be a good test to see where both teams are at as we near midseason. This one likely comes down to the QB's. Both QB's face some shaky secondaries, CP3 at Shittsburgh and Matty Ice @ New Orleans. Should be a doozie of a matchup this week.
#3 Willenium Force (3-2) vs. #4 BRUMrodKOWSKI (3-2)
This baby here is likely the GotW. The battle for the Playoffs can never start too early, and this one will have major Playoff implications. Someone is going to move to 4-2 and set themselves up nicely, while the other will drop to .500. Will gets Deppen, then Curlis after this week, so taking care of business against Brum is huge. At first glance it appears Will may have a slight advantage from his matchups this week, however the thought of Demaryius Thomas against the Browns with no Joe Haden is utterly terrifying, he may score 100 himself.
#5 The Donatello (2-3) vs. #8 HeHateMe30 (1-4)
This one should be fun. We'll have the QB battle on SNF when TB12 heads to Indy to thrash the hell out of the Colts. Luck should be back, but we'll see what kind of rust needs shaken off after missing the last two games.
Amari and Joseph Randle on byes will force Mike's hand in his lineup decisions a little, but he has some solid depth to make up for it. Pat's team is just reeling right now, but a last-minute trade this week for Brandin Cooks may be the jump start he needs. But, most likely not.
Good luck, squad. Except you, Curlis. Oh, and we're all Team Rat this week. Go Dead Rats Walking!